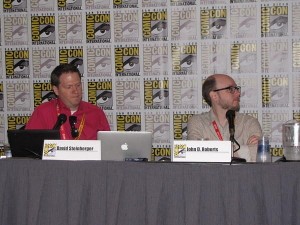 comiXology co-founders David Steinberger and John Roberts discuss digital comics at Comic-Con
On Friday at Comic-Con, I moderated a panel called "Are Digital Comics Expanding the Market?" with David Steinberger and John Roberts of comiXology, Mike Richardson of Dark Horse, and Ted Adams of IDW. The impetus for the panel was to address lingering concerns that digital distribution of comics on iPads and e-readers would cannibalize and kill the fragile direct market for print comics. This is an issue I addressed in Comic-Con and the Business of Pop Culture and in articles like this.
In fact, a year's worth of market data tells the opposite story. Not only have digital comics become the single largest growth segment in the industry, but they appear to have done so while leading print sales higher in both the direct market and bookstores. comiXology and both publishers on the podium agreed that 2011-2012 had been a turnaround year on all fronts, led by phenomenal sales on the digital side.
Numbers, numbers, numbers
ComiXology has not been shy about trumpeting its rapidly-increasing digital downloads total, which began the year around 50 million and is up to 75 million on the latest press releases. The five year old company, which has only had its digital storefront going since 2009, is now selling bits the way McDonald's pushes burgers. Expect a "billions and billions" served sign to go up any minute. In terms of revenue growth, this equates to an increase in merchandise revenue from $11 million last year to over $44 million projected for 2012, a 450% increase. Know any other businesses that are doing 450% year-over-year in 2012?
IDW's Ted Adams chimed in with heretofore-unreleased sales numbers on Transformers: Autocracy, a licensed direct-to-digital title that turned heads last year with big download stats. How big? Adams says initial issues launched at around 10,000 and the series now gets 50,000 paid customers per digital issue.
Publishers give "enhanced content" the thumbs down
While there were a number of interesting announcements before and during Comic-Con about new comics-based apps, motion books and enhanced digital graphic novels, the panelists were skeptical that these new bells and whistles added much of value to the traditional comic reading experience. Adams indicated that he considers motion comics an inferior experience, calling them a poor substitute for real animation and too expensive to produce properly. comiXology's Steinberger and Roberts have both been outspoken about their vision of bringing the comics medium into digital without unnecessary distractions.
One area of the conversation strayed into the potential of transmedia (stories told across multiple platforms such as movies, comics, videogames, etc.). Panelists hated the term but liked the concept. Several people noted IDW's success with their Star Trek motion picture tie-in from 2010, which provided additional "in-canon" background to the movie's plot and characters. Dark Horse has of course also been rather successful extending popular  properties like Buffy the Vampire Slayer, which originated in movies and television, into additional "seasons" via comics.
New audiences, new horizons
The bigger opportunity, all agreed, was in reaching a broader audience beyond the traditional Wednesday direct market crowd, including a potential global readership expected to reach nearly 1 billion by 2016. Dark Horse, long a leader in bringing offshore material from Asia and Europe to American audiences, has distribution in over 50 overseas markets, with plans to reach more via digital.
IDW, a leader in licensed titles like Doctor Who and Star Trek, noted that these kinds of books have the potential to bring in more general readers than a specialized genre like superheroes. The panelists agreed that the industry has a great opportunity to reach readers with a more diverse range of content on the digital platform because they are not subject to the ordering whims of retailers or the narrow tastes of those who patronize comic shops.
Digital as a driver for print?
The next frontier for publishers and distributors is strengthening the synergy between digital and print formats: creating incentives to bring digital readers into comic stores at least once in a while to buy premium issues or collected editions (and to expose them to the cross-sell and upsell opportunities that a good in-store service environment can provide), and to get traditional print readers to try digital, perhaps as a way to experiment with new titles, creators and genres before making a commitment to buy the printed book. Participants saw the continued use of promo codes, combo editions and retailer incentives as ways to build this momentum.
For a subject that seemed so contentious in 2011, digital comics in the early going seems to have proven itself as an asset rather than a threat to the overall market, accomplishing something few people saw as likely even a year ago: creating a new lease on life for the single-issue business.